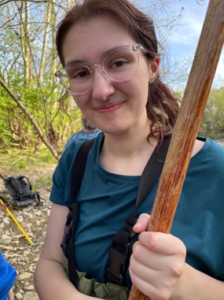 I'm excited to be the BCCDKY Forest Health Intern for Summer '23. Mountains, rivers, caves, and beautiful forests are all part of the amazing state of Kentucky. From warms summer days hiking in the woods to boating on the lakes of glistening water, I appreciate all that nature shares with us. This love of nature and a desire to protect it led me to Thomas More University where I'm in my junior year pursuing a dual major in Life Science (Sustainability Concentration) and Educational Studies with minors in Environmental Science and Psychology. I hope to listen to all the environment teaches us and be a part of preserving all that is around me. 
"I believe the world is incomprehensibly
beautiful – an endless prospect of magic and wonder." Ansel Adams
What's happening…
Monday, our first day, we planted 26 native trees in an orchard project created by the junior board. Kamryn and I planted trees such as black cherry, chestnut, and persimmon.
Tuesday, we were CPR certified, and I learned about the bat monitoring equipment and made sure it was all set for the week. Bats are one of my favorite species, and I can't wait to learn more about them!
Wednesday, we had the opportunity to hike with a great group of students on a Conservancy Field Trip and met a baby turtle and cricket frog. We hung a subsonic bat detector to listen for the echolocation of bats!
Thursday, super fun time with the Girl Scouts making tree crafts at Middle Creek. This brought back great memories of my time as a Scout.
Friday, we worked with SD1 and two NKU students at Boone Cliffs to help them collect data from the creek for their research.
Saturday, Community Activities Fair day! I was able to meet lots of great people and tell them about all the exciting things happening at BCCDKY!