Become a Citizen Scientist!
Scientists need your help! You can help collect valuable data right from your own backyard or schoolyard. There are TWO projects to get involved with this Fall:
Monarch Tagging
Peak monarch migration is September 14-26. By tagging these butterflies with a small sticker, we can help track their migration patterns as they fly to Mexico for the winter. Monarchs are often spotted near milkweed and other pollinator-friendly gardens, but during migration season they are sighted just about everywhere, including lawns, parking lots, and playgrounds. Each tag has its own identification number which will be recorded and sent to an international database and does not harm the butterfly.
To learn more, come to our Monarch Tagging Program on Sunday, September 22 from 2-4 p.m. at Walton Community Park.
For guided lessons for your classroom, club, or scout group, email susanbrown@bccdky.org or contact the Boone County Conservation District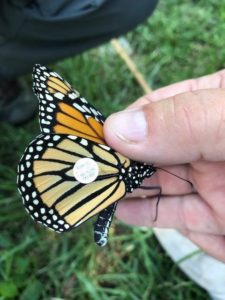 Snail Shell Collection
Biologists from the KY Office of State Nature Preserves are conducting the first ever snail population survey in our state. Scientists are collecting as many snail shells as possible, but they need our help! Empty snail shells can be collected from anywhere including your garden, backyard, or a local park. Simply put the empty shells in a container with your name, date, and the location you found them, and drop them off at the Boone County Conservation District office at 6028 Camp Ernst Road, Burlington, KY 41005.
To learn more or to schedule a visit to your classroom, email susanbrown@bccdky.org or contact the Boone County Conservation District.