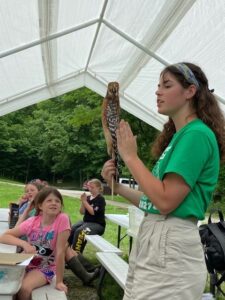 Hi all! This entry will be all about my amazing first month as BCCDKY's Education Conservation Intern. I've learned so much about environmental education and the Conservation District over the past few weeks, and Susan has been an incredible resource and mentor. Most of my time has been spent helping Susan plan and run education programs for homeschool co-ops, school groups, and Girl Scout troops. It's been great to learn more about how programs are adapted for different age groups, settings, and time limits.
We just had our Conservation Kid's Camp at Potter's Ranch, which was an amazing program! It included activities like canoeing, geocaching, fish dissections, and so much more. I was also able to plan and lead a bird adaptation and nest building activity for CKC. It was so rewarding to see the campers have new experiences in nature, learn new things, and have fun! Being able to see the positive impact of programs firsthand is one of the reasons I'm so interested in environmental education. I am grateful that our weeks of preparations paid off and that so many great people came together to make it possible.
In addition to working with the great staff at BCCDKY, I've been lucky enough to also work with the other summer intern, Stephanie Spence. I've been assisting her in the early stages of her bat monitoring project, and I'm excited to see where the wildlife research goes this summer. We're staying busy with LEAF Academy preparations and several one-day camps, so check back in to read about the other fun things I'll get to experience as the summer continues!
-Kathleen Reilly