Rivers, streams, ponds, groundwater...
Not only are they a part of our drinking water system, but they provide habitat for local wildlife, irrigation for agricultural production, and a significant amount of outdoor recreation opportunities such as boating, fishing, and swimming.
The rapid and continuous growth of Boone County's population not only increases the demand for clean water, but wastewater, storm water runoff, and negative impacts to aquatic ecosystems increase as well. Flooding, stream bank erosion, and pollution are some of the many concerns caused by urbanization.
Conserving water as an important natural resource for the benefit of all requires a collaborative effort among landowners, businesses, residents, government agencies, and private organizations. BCCDKY works together with community partners to protect and conserve our waterways through our watershed initiatives, agricultural water quality plans, and habitat improvement projects.
Click the links below to learn more about our work and how you can get involved! Want to see what the current conditions are in Northern Kentucky creeks? Check out USGS' Northern Kentucky Regions here.
What is a watershed?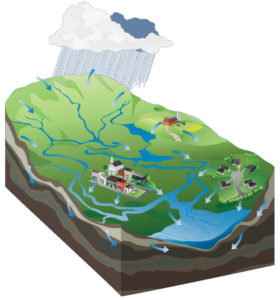 At BCCDKY, we talk a lot about watersheds. But what does that mean?
A watershed, also known as a drainage basin, is an area of land that where all the water flows into one central body of water, such as a river, stream, or lake.
It is important to remember that if the land in a
watershed is clean and healthy, the water will be, too!
Learn more about our opportunity to participate in a national water quality project in Lower Gunpowder Watershed!
Learn more about the completed project by clicking here! This project started back in 2012.
Learn more about the project by clicking here! This project is ongoing and started back in 2011.