Boone County Parks Garlic Mustard Removal Day
Community Activities Fair
May 20
9 a.m. to 1 p.m.
Boone County Farmers Market
Come and talk with organizations from across Boone County to learn about upcoming summer events for all ages!
May 6
10 a.m. to 12 p.m.
Middle Creek Park
Birding by Kayak
Saturday, May 20
9 a.m. to 12 p.m.
Boone's Landing (14036 Boat Dock Rd, Union, KY 41091)
With guides from the Northern Kentucky Bird Club, we will explore the backwaters of the Ohio River at Boone's Landing. This habitat, located at the confluence of Big Bone Creek and South Fork, is surrounded mostly by private forest and home to many species of song birds, water fowl, herons, and so much more.
*Registration now full*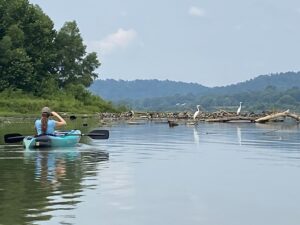 Conservation Kids Camp
June 6, 7, 8, and 9
9 a.m. to 4 p.m.
Students ages 9-12 will explore the forest and streams of Boone County with hiking, ecosystem studies, kayaking, fishing, games, and crafts.