Stream Team
Stream Team is a group of Boone County teens who study our local waterways. These nine citizen scientists meet twice a month to learn a different aspect of stream ecology, and will start collecting water quality data from a selected waterway in Spring/Summer 2022. The data will be submitted to the University of Kentucky and will be used by multiple agencies to better understand and protect our precious water resources.
Over the course of a year, the Stream Team will also plan and facilitate a community event to promote the importance and stewardship of local waterways.
This pilot program is sponsored by the Boone County Cooperative Extension Service and the Boone County Conservation District.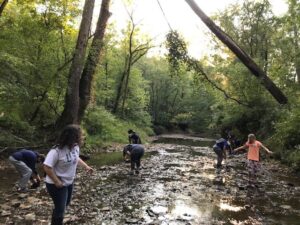 For More Information Contact:
Lacey Kessell
Natural Resource Agent
Boone County Extension Service
Office: 859-586-6101
Cell: 859-609-1821
Susan Brown
Conservation Education Specialist
Boone County Conservation District
Office: 859-569-6277
Cell: 859-750-6461