in 2020, BCCDKY increased efforts to assess forest health through wildlife monitoring. Wildlife species such as amphibians, reptiles, birds, and small mammals can act as indicators of ecosystem health and monitoring their populations can help inform decision-making and best management practices for residents and land managers.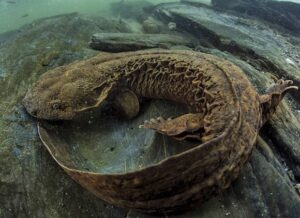 Hellbenders
Hellbenders are the largest species of salamanders in the Eastern United States. They can grow up to 29 inches long and have folded, slimy skin used for oxygen absorption under water. Hellbenders are sensitive to pollution, and their presence can indicate a healthy ecosystem. US Fish and Wildlife collected environmental-DNA (eDNA) samples from Gunpowder Creek, and are currently analyzing results to determine their presence in Boone County.
Snakes
Led by student researcher and BCCDKY Intern Alyssa Harney, artificial snake habitat is being used to learn more about local snake populations. Wooden boards and sheet metal have been strategically placed in various habitat types, which provide the hot, dry conditions snakes prefer to hide under. These artificial habitats are monitored regularly to collect species information.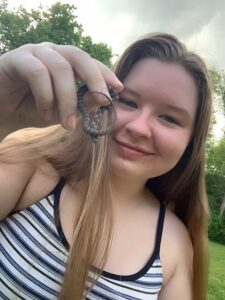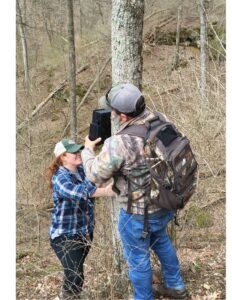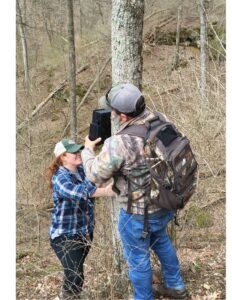 Bird Songs
Using funds from the State Cost Share Environmental Grant, BCCDKY purchased acoustic wildlife monitoring equipment. Bird, frog, and insect sounds are recorded and can be analyzed to determine individual animal calls and songs. Microphones are left in the field for a period of time, and software can analyze and identify bird species based on recorded sounds. 
Jefferson's Salamanders
University of Tennessee student researcher and former BCCDKY intern Bryce Wade initiated a study of Jefferson's Salamanders in Boone County. These salamanders, which breed in vernal ponds, have the potential be unisexual - a very unique quality among salamanders. Bryce and BCCDKY staff collected several DNA samples from Boone County salamanders this Spring for genetic testing. Although no unisexual salamanders were found so far, sampling will continue next year.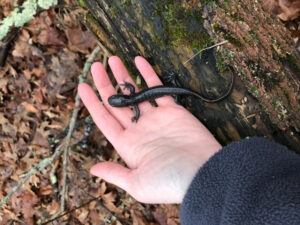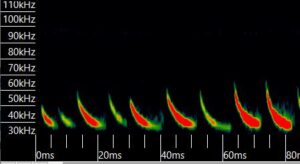 Bats
Sixteen species of bats have been documented in Kentucky but it is unclear how many of those are in Northern Kentucky and if their populations are healthy.  In collaboration with partners such as Northern Kentucky University, Thomas More University, Boone County GIS, Boone County Parks, and Kentucky Office of Nature Preserves, student interns will conduct regular acoustic surveys of bat populations in our local forests. Data collected from these surveys will be used to identify areas of potential concern as well as possibilities for improved management and protection. Additionally, information collected by the project will be used for public outreach and education programs.
Small Mammals
Summer 2020 Intern and Thomas More University Student Joseph Pedro conducted a small mammal survey at Boone Cliffs Nature Preserve. Forty live traps were baited and set over four collection windows, and over thirty white-footed mice were captured, measured, and released safely back into the ecosystem.