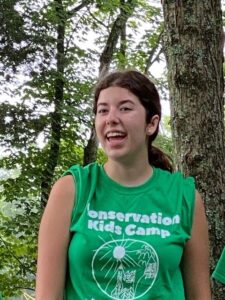 Hello everyone! I hope that y'all have been staying safe and enjoying the wonderful summer weather! My first few weeks at BCCDKY have been very busy and exciting and I'm itching to let y'all know what we have been up to!
My first few weeks at BCCDKY have been mainly focused on preparing for our summer Conservation Kids Camp. I aided in programming exciting and educational activities, such as lessons surrounding bird adaptations, edible plants, and cicadas! It was extremely rewarding getting to see the kids engage and enjoy activities that I had helped plan. I also enjoyed getting to lead my own station at camp surrounding cicadas, in which I got to not only teach the kids the information I had learned about cicadas but they also got to partake in cicada collection as well as other hands on projects that helped cement their knowledge.
Apart from planning CKC and L.E.A.F.! Academy programs, I have also been placing audio monitoring equipment out at Dinsmore Woods and Boone Cliffs. Placing audio monitoring equipment out is crucial in identifying the biodiversity of the areas, as well as identifying what bat species are present in Boone County. Knowing what species are present can help the District in their efforts to protect and conserve the biodiversity of Boone County, as knowledge of the presence of specific species can lead to different forest management practices.
These first few weeks at the Conservation District have been amazing, and I am excited to finalize my individual research project in the coming weeks! Tune in to hear about it in my next blog post!
Best Wishes,
Stephanie Spence